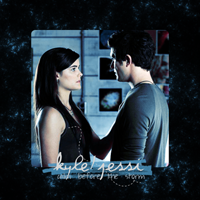 First fanmix ever! I'm actually happy with how this turned out seeing as how it took me forever to crop the fucking picture right. Kyle and Jessi are seriously awesome.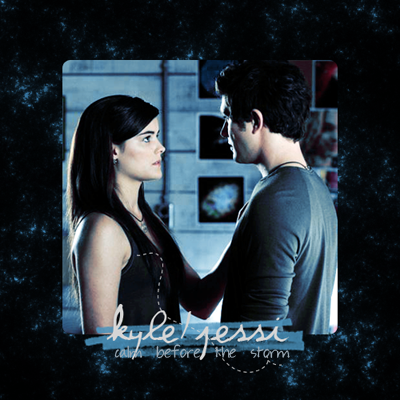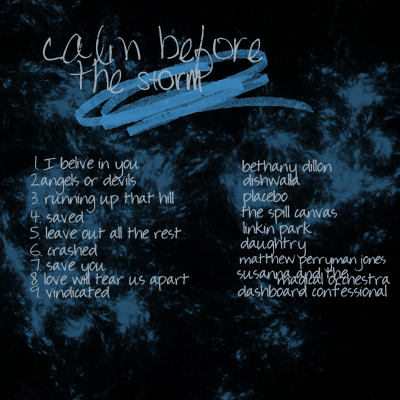 I Believe In You - Bethany Dillon
When there's nothing to believe in, I believe in you
Forget the past and let my hand in yours be the proof
Though the strong could be my company, you're the one I choose
So remember, I believe in you
I know it feels like every eye is watching you
Waiting for you to fall, expecting you to lose
But I see victory, so all you have to do
Is remember, I believe in you
Angels or Devils - Dishwalla
the angels they burn inside for us
are we ever
are we ever gonna learn to fly
the devils they burn inside of us
are we ever gonna come back down
come around
I'm always gonna worry about the things that could make us cold
this is the last time
that I'm ever gonna give in tonight
are there angels or devils crawling here?
I just want to know what blurs and what is clear - to see
Running Up That Hill - Placebo
It doesn't hurt me.
You wanna feel how it feels?
You wanna know, know that it doesn't hurt me?
You wanna hear about the deal i'm making?
You be running up that hill
You and me be running up that hill
And if I only could,
Make a deal with God,
And get him to swap our places,
Be running up that road,
Be running up that hill,
Be running up that building.
If I only could, oh...
Saved - The Spill Canvas

I am unbreakable but it looks like I could sometime soon
And you are unreachable about as possible as me touching the moon

I am unraveling unbearably empty
And if this ground gives way I just hope that you'll catch me

You came and saved me tonight
Defending all my life
Whoa, now i'm content with my breath cuz i'm aliv

And this is the epitome of everything you see in the movies
And this world is a time bomb ticking and I think I can stop it if you help me.

Leave Out All The Rest - Linkin Park

I dreamed I was missing
You were so scared
But no one would listen
Cause no one else cared
When my times comes
Forget the wrong that i've done
Help me leave behind some
Reasons to be missed
I'm strong on the surface
Not all the way through
I've never been perfect
But neither have you
Pretending
Someone else can come and save me from myself
I can't be who you are
Crashed - Daughtry

And then I crashed into you
And I went up in flames.
Could've been the death of me,
But then you breathed you breath in me.
And I crashed into you,
Like a runwaway train.
You will consume me,
But I can't walk away.
Somehow, I couldn't stop myself.
I just wanted to know how it felt.
Too strong, I couldn't hold on.
Yeah, yeah.
Now i'm just tryin' to make some sense
Out of how and why this happened.
Where we're heading, there's just no knowing.
Yeah, yeah.
Save You - Matthew Perryman Jones

So help me decide
Help me to make up
Make up my mind
Wouldn't that save you
Wouldn't that save you
Wouldn't that save you
Watched it all go by
Was it really true
Is that what it was?
Was that reall you?
I'm looking back again
Tracing back the threads
You said I was a mess
Or was it just in my head
Love Will Tear Us Apart - Susanna & the Magical Orchestra

When routine bites hard
And ambitions are low
And resentment rides high
But emotions won't grow
And we're changing our ways
Taking different roads
Then love, love wil tear us apart again
Love, love will tear us apart again
Vindicated - Dashboard Confessional

Hope dangles on a string
Like a slow spinning redemption
Winding in and winding out
The shine of it has caught my eye
And roped me in
So, mesmerizing, and so hypnotizing,
I am captivated, I am
Vindicated
I am selfish
I am wrong
I am right
I swear I'm right
Swear I knew it all along
And I am flawed but I am cleaning up so well
I am seeing in me now the things you swore you saw yourself
ZIP
of all songs and artwork
Ask for individual songs